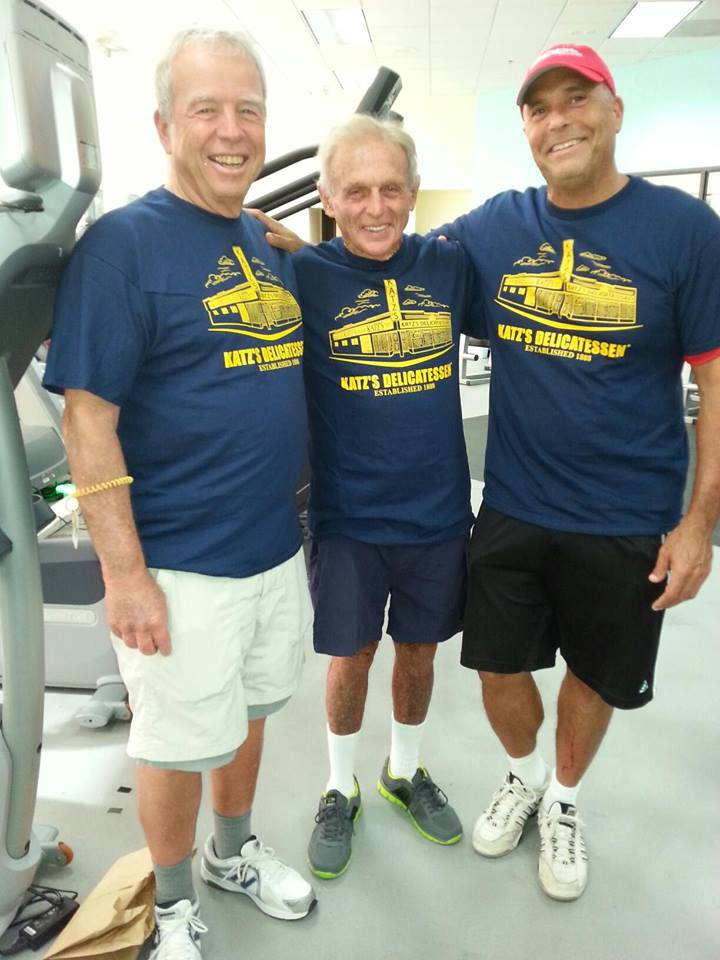 I would like to thank Jennifer, Karin, Alan and Derek for giving me the honor of being a pallbearer and for allowing me to share some thoughts and memories of my 30 plus years of friendship with Jack.
Jack and I shared a very special and unique relationship. He was much more than my friend – he was a mentor, a confidant, a role model, a motivator, an inspiration and a second father to me.
Jack ran almost every day when he lived in Cape Town and was a regular at Graffs Pool. For those of you who don't know what that is, it was a tide pool with a wall behind which men gathered to swim and sun bathe in the nude.
When Jack arrived in San Diego in 1987 and began running here, he started having back pain. He went to see Norman Kane the orthopedic surgeon, who told him that he should give up the running. Being the endorphin junky that he was, Jack asked what else he could do.  Norman suggested that he try riding a bike. Jack borrowed Alan's Schwinn and at age 62 began to ride. Most people would be giving up riding at this age rather than just getting started, but that was normal for Jack.
Someone knew I liked to ride and introduced us to each other. We started riding together every Saturday morning. It was during these hours of riding that our friendship blossomed.
I remember many very early cold winter mornings when my alarm went off and I thought of staying in my warm bed. This was long before cell phones so I couldn't call Jack and tell him I wouldn't be there. I knew that Jack would be waiting for me at the corner and there was no way I could not show up. If 60 something year old Jack could go out in the cold to ride, what excuse did 30 something year old me have?
We continued to ride together every Saturday morning for at least 10 years. Eventually Jack was not able to keep up on the hills, so he suggested that I ride the inland route with the hills and he would ride up the coast which was more flat. He was a master as figuring out times and he would time it so that we met up when I reached the coast. We would ride back down the coast together.
We continued to do this for at least 5 more years. At around age 80, he finally gave up riding on the road. He then transitioned to riding the stationary bike in the gym.
When Jack was working for Reebok in Mira Mesa, he started going to the gym across the road. He had always lifted weights when he lived in South Africa. I on the other hand had never lifted weights. It didn't take long for Jack to talk me into joining him at the gym. Most lunchtimes I would get a call from Jack telling me to meet him at the gym in 20 minutes. Fortunately, my office was nearby and Jack and I not only became riding buddies, we also became work out buddies.
For those of you who have worked out in the same gym as Jack, you know that Jack will always push you to add more weight or do another set. We continued to work out together until Jack retired from Reebok. Because of Jack's influence, I still go to the gym and lift weight. He would especially enjoy the times I would come to the JCC to work out with him.
Every Friday Jack would call me to catch up and to check that I was going to ride on Saturday. He wanted to know who I was riding with and where I was going. I think this enabled him to still feel a part of the weekly ritual.
Jack was such an inspiration and role model. If he had not come into my life, I would not still be riding and going to the gym. Jack instilled in me the importance of working out and staying fit. We both participated in the first San Diego Triathlon Challenge to benefit the late Jim McLaren and Jack was one of only 2 or 3 people to have participated in all 25 years of the event.
He was most proud of the year he participated with Jeff's dad Natie and one other person who did the swim. Jack did the bike ride and Natie did the run. They were and still are the oldest team to ever take part in the SDTC. My son Brandon who was in high school at the time also participated that year and together with 2 school friends were the youngest team to ever complete the event. There is a great picture of Jack and Natie with the 3 high school boys.
Jack was so amazing for his age. Actually he was amazing for someone 20 years younger than him. I used say that when we grew up, we wanted to be like Jack.
Once he settled into his routine of working out at the JCC, he became beloved by everyone there and I would refer to him as the "mayor" of the JCC.
We all thought that Jack was invincible and that he could continue to cheat father time. After he met Linda, he would tell me about all the wonderful activities they would have planned for the weekend. When I asked him if he was going to take a nap on Saturday afternoon, his response was: "why would I do that?"  My response was: because I would be tired if I had to do all the things you are going to be doing and I am 31 years younger than you.
I feel truly blessed to have had someone as special as Jack in my life and I know I am a better person because of his friendship and positive influence . I am going to miss those Friday phone calls but I am going to treasure all the wonderful memories I have of the time we spent together on the bike and in the gym and the cross generational bond we had.
Dennis Pinn.