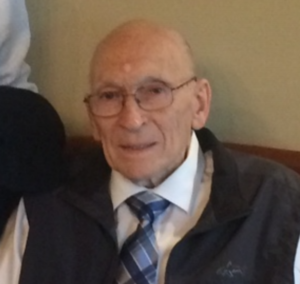 Dovid (Dov) Borok, beloved husband of Bernice, father of Zea (Anthony Sank z"l), Jonathan (Jonny) and Gil (Aileen), and Zaide of Jenna, Glenn Jack and Estee passed away on July 18, 2020 in Los Angeles, CA. Despite his many medical challenges over the years, he remained to the end as he was throughout his life – resilient, tough and optimistic, expressing the desire to live to 120 until the day before he died.
Dov Borok, my dad, was born and raised in Durbanville, a small rural suburb of Cape Town, then moved to the world famous area called Muizenberg, which had a strong Jewish community. From there he moved to Wynberg, Mom's home town, and then to Highlands Estate to be closer to Herzlia School from 1968 to 1986, when he and mom immigrated to Pittsburgh, PA. Wherever he lived, Dad was involved in the shuls and communities, serving as president or board member on multiple occasions, as well as singing in or leading choirs. From October 1990, Mom and Dad spent 28 happy years in San Diego where he continued his practice of community involvement.  In October 2018, Mom and Dad moved to Los Angeles to be closer to their medical providers at USC.
Some key things that stand out about our dad are his kindness to others, love of Judaism and Torah, and absence of Loshon Harah – a true 'mensch'. Dad had only good things to say about others and would never succumb to speaking badly of anyone. He was a truly humble and modest person. He was kind, caring, warm and giving to others. He always gave people dedicated time such that they felt special. His routine was late to work, late home in the evening for dinner (we always waited for him and mom always scolded him for being late), then off to a shul or non-profit Board meeting, and then he would come home and work until midnight while enjoying a large bar of chocolate and a large bottle of coke .
Dad loved Judaism. He loved to daven in shul, he loved Chazzonas, and he loved a good sermon.  As children we all spent a lot of time going with him to shul, with Jonny experiencing the reverse in Dad's last few years in San Diego, when he would bring Dad to shul instead. Dad always wanted perfection. When the Torah readers read (lain) and their pronunciation and grammar were to his high standard, he would often whisper his approval to Jonny. He could read (lain) any Torah portion and he could do any Haftarah off the cuff. Once or twice he shared with Jonny that for many years he reviewed and prepared the Haftarah every week 'just in case'.
What many do not know or have forgotten is that Dad's first career in South Africa was as a lawyer, something that he was not especially fond of. Upon emigrating to the U.S., he converted his love of Judaism into a new 'career', teaching Bar and Bat Mitzvah to generations of San Diegans and having a far greater impact on the community than he would ever have imagined possible. Many have reached out to us with fond memories of what an incredible teacher he was, often teaching several kids in the same family as well as adults. He loved this second career teaching Bar and Bat Mitzvah – it was his true calling.
A highlight of his Bar / Bat Mitzvah teaching career was involvement in the preparations of each of his grandchildren for their big day. In Glenn's case, Dad taught him the entirety of what he needed to know and it is one of his fondest memories of Zaide. Despite Dad labeling Glenn as one of, if not his worst, students, he persevered and calmly worked with Glenn to ensure Glenn would succeed. Dad's approach was to assess the potential in each child and then to teach them to that level.
Dad had very high standards indeed and his highest compliment ever was "not bad", which usually meant quite good, pretty good or even really good. If we would come home from school with an A, he would want to know why not an A+.
Jenna and Glenn had the benefit of and good fortune to have our dad act as their second dad when they were growing up. He became Zaide to us when Jenna was born 30 years ago and was affectionately called Zaide from then on. It was not natural for him to show his family affection (his grandchildren, whom he cherished, were the exception) or to say he loved us but we all know that he did, indeed, love us immensely. We enjoyed many, many Shabbat lunches and Friday nights together as well as many wonderful Seders and High Holidays together. To Dad these were always the most important things in life. Perhaps his all-time favorite holiday was Pesach as we had the opportunity to sing many familiar songs and tunes together. Our rendition of Baruch Habah from the Cape Town synagogues will not be the same without him. We spent many Chagim with our cousin, Tanya Goodman, and her family; Dad loved her like a second daughter.
Dad was an old school, tough South African male. He was mostly quiet but when he spoke, you best listen as he always had something to add. We will miss his jokes – his one-liners every now and then out of nowhere were really funny. He had an amazing ability to tolerate pain and he had the firmest hand shake. He never complained about his many ailments; he just got on with it. He was sick with one thing or another, many times serious, for 30 plus years. To be sure, there were many good times in between, which we were afforded because Dad had a will to live second to none and a medical team, orchestrated by Zea that kept him going often against the odds. We are so grateful to all of them for the 30 plus additional years they gave him and us. Dad was so very satisfied with his life. He wanted for nothing and took pleasure in simple things.
Despite these bizarre times, we were blessed to celebrate Dad's 90th birthday on May 27 via FaceTime and we similarly celebrated Father's Day with him in June. Throughout the last four months, while things have been very difficult due to the COVID lockdown at their assisted living facility and as Dad's health declined, Mom has remained positive, supportive and incredibly strong.  When you asked her how things were, she would always say with a smile on her face, "it's just another day; onward and upward." She was always the rock behind dad.
Dad, in your own quiet way, you were the best father and Zaide anyone could ask for.  We are relieved that your suffering is now over but know that we all love you and will miss you very much.  May you rest in peace.