Jeanie Marie Katzeff (Hugo)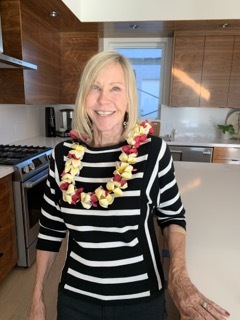 Jeanie M. Hugo of Cardiff-By-The Sea, California passed away at home on December 29th, 2022 after a short illness. She was born in Centralia, Illinois to the late Elvera and Robert Hugo on July 9, 1948. She is survived by her devoted and loving husband, Hillel Katzeff, her beloved son Craig Robert Luckey, son Jay Douglas Luckey (deceased), stepchildren Jacob and Lily Katzeff, sister Joy Churchill (Hugo), brother Larry Hugo, nieces, nephews and numerous other family members who loved her dearly.
Jeanie attended Illinois State University and graduated from Southern Illinois University with an undergraduate degree in social studies and a master's degree in library sciences, curriculum and media. She taught for many years and was a mentor to many, a beloved teacher who influenced countless students lives. Jeanie was very creative in her teaching style and won many awards for being such an inspiring and dedicated educator and student-centered leader, including Teacher of the Year in 1997, and was a Golden Apple recipient for Vista Unified School District. She ended her career as Deputy Superintendent of the VUSD where she supervised the Curriculum and Instruction, Special Education and Student Services Departments. She was awarded the Heroes of Vista Administrator of the Year in 2015.
Jeanie's life was not without challenges. Her son Jay died in a car accident in 2001 in Vista and her husband Jim Luckey died in 2009.
Jeanie married her prince charming and soulmate Hillel, on October 30, 2016 at Congregation Beth El. The two shared a love of hiking, travelling, entertaining and spending time at the beach. After meeting Hillel, she chose to study and learn about the spiritual teachings of Judaism. Jeanie had a passion for life and education with one of her noteworthy accomplishments later in life being learning Hebrew and being able to chant from the original Hebrew Torah scroll, thus becoming a Bat Mitzvah. Jeanie was very involved with her synagogue (Congregation Beth El) and her volunteer efforts included serving on many committees including the Women's Connection and the Security Committee. She also volunteered at the synagogue Book Store.
A funeral service will be held on Monday January 2nd, 2023 at 12:00 noon at El Camino Memorial Park, 5600 Carroll Canyon Road, San Diego, CA 92121.
Donations may be made to:
Women's Connection c/o Congregation Beth El
Separate account to honor Jeanie Katzeff
Mail check to: 8660 Gilman Drive, La Jolla, CA 92037
Call to make donation: 858-452-1734