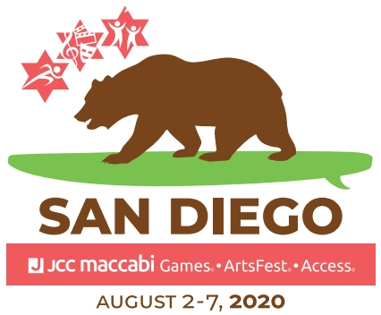 Dear SAJAC Member,
We are so excited to be hosting the 2020 JCC Maccabi Experience: Games, ArtsFest & Access and need you to make it all happen! We know you hosted teen participants for the 2008 JCC Maccabi Games and hope we can count on YOU again to take part in this life-changing opportunity. If you've already completed the Maccabi Interest Form (www.sdmaccabi2020.org), thank you!! Please ask your neighbors, colleagues, and friends to do the same. And if you haven't yet, now's your chance.
Help us complete the circle…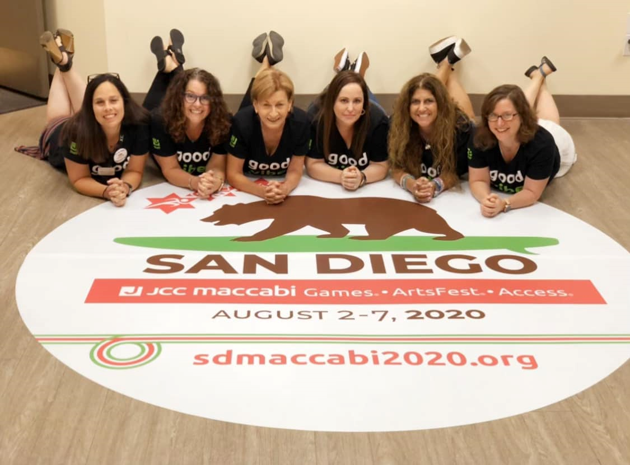 We're the Maccabi Team Host Family committee. As such, our role is to help find and recruit 800 Jewish families who will accommodate 2 or more teen participants from U.S. and international delegations during the week of the Maccabi Experience, August 2-7, 2020.
The JCC Maccabi Experience in San Diego (www.sdmaccabi2020.org) will be split into three primary components: Games, ArtsFest, and Access. The Games are a series of athletic competitions; ArtsFest is a weeklong experience featuring workshops in a variety of specialties including dance, culinary arts, ceramics, and film. And Access is a brand new component of both Games and ArtsFest elements for teens with cognitive disabilities. Together, all participants will take part in evening events, opening and closing ceremonies, community service projects, and informal Jewish education. All of this is done to provide Jewish youth with a supportive environment that fosters mutual respect, sportsmanship, and a space for artistic expression.
We anticipate 1,800+ visiting teen participants joining us for the 2020 JCC Maccabi Experience who will travel to San Diego from all over the world. An important and memorable part of their time here will be the place that they call home for the week!
So, what's required of a host family? Host families are responsible for the following:
Host 2 or more teen participants (ages 13-17) of the same gender in your home August 2-7, 2020
Provide appropriate sleeping arrangements for the teens (each must have his/her own bed or air mattress – which the JCC can provide if needed – but they can share a room)
Provide breakfast each morning of Maccabi
Transport the teens each morning to a host family drop off hub or main Maccabi hub (more information to come), and pick up the teens each evening at the hub after their last event of the day
Provide dinner two evenings during the week – on Host Family Nights
Make laundry facilities accessible
And one last question…what makes me eligible to be a host family?
At least one of the adults in your household must identify as Jewish. Diverse families are welcome: single parents, empty nesters, those with young kids (or no kids), unaffiliated, kosher/non-kosher, same sex couples, those with pets or without, all make wonderful host families!!
With your help and enthusiasm, we'll be able to reach our goal of recruiting 800 host families in no time! Click on the link located under the "Get Involved" tab towards the top of the page.
It will bring you to a form with this question. You may check all that apply, but please make sure to check the 'host family' box (see highlighted item below).
We've attached an FAQ sheet that may answer your questions. Watch your email inbox for more details about being a host family for the 2020 JCC Maccabi Experience. The official registration form will be available soon, so stay tuned…
Thank you in advance for stepping up and joining us in what we're confident will be the best and most rewarding volunteer commitment EVER. This will be an unforgettable opportunity to help build and unite our San Diego Jewish community, show off our gorgeous city, and be a part of this amazing experience.
We are grateful for your support.
Sincerely,
Team Host Family: Todd Allen, Meryl Flam, Jerri-Ann Jacobs, Sandy Siperstein Rafner, Vivien Dean, Jennifer Meltzer, Dana Koenig, Judy Nemzer, Lorraine Fisher