Remembering Sylvia Kane from 1925 to 2023.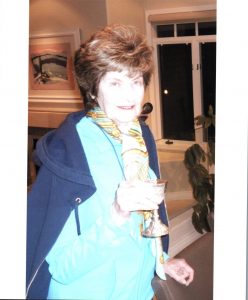 Sylvia Rita Kane was born in Klerksdorp, Transvaal, South Africa, on 07/05/1925. Sylvia was the youngest of three children. After completing high school, Sylvia moved to Johannesburg. She initially wanted to be a physician. Discouraged by her mother, she eventually decided to become a Pharmacist because of the long hours.
1947 she met her future husband Gerald at the Balmoral Hotel in Durban.
They married him in 1948, when he graduated from medical school. In 1952, Gerald, Sylvia, and their son Norman went to England, and Gerald specialized as a General Surgeon. They then traveled to Switzerland and the United States, returning to Johannesburg to be close to their family. 1956 Sylvia and Gerald moved to private practice in Durban with their two sons, Michael and Norman.
They were both involved in the Jewish community. Gerald always stated, "Fortune favors the bold," so they traveled extensively. Being educated was the most important lesson they could teach their children. Noreen was born in 1957, and all three children attended the Sharona School and Carmel College to obtain a Jewish education. All the holidays were always celebrated at their home by friends, family, and visitors.
Sylvia and Gerald emigrated to the US following Michael and Norman. Noreen, who had graduated as an attorney, emigrated to Australia in 1988 with her husband, Colin, and two children.
This was a challenge for Sylvia and Gerald because they loved to travel, and they traveled back and forth to Australia and the United States extensively until, in 1988, they elected to emigrate to the USA, where Gerald began teaching anatomy at Stanford University, UCLA, and UCSD.
They integrated into the society in San Diego very quickly. They participated in numerous cultural events, lawn bowls, and Israeli dancing and had a vast social circle. Adventurous Sylvia, at the age of 75, went hot air ballooning. In 1998, she accompanied Gerald when he was a ship's doctor on numerous cruises.
Unfortunately, Gerald, the man of her life, passed away on 3/5/2002.
This did not reduce Sylvia's desire to make a difference. At the age of 77, she volunteered for the Israeli defense force and spent two months repairing the helmets of the tank commanders during the Second Intifada.
Sylvia always believed the glass was half full. She was always optimistic, unpretentious, warm, gregarious, and sophisticated and had an open home. The younger generation loved talking to her and learning from her. As she slowed down in her later years, she would spend her days at her home and Normans in front of the TV. When friends visited the house, she always participated in political discussions.
Sylvia passed away quietly on 4/24/2023 with her three children and grandchildren by her side. She was elegant, classy, sophisticated, and always a delight.
Missing her, we are blessed that she is the matriarch of our family.