Maya Amoils
Tribute by her  parents, Sandi &
Steve Amoils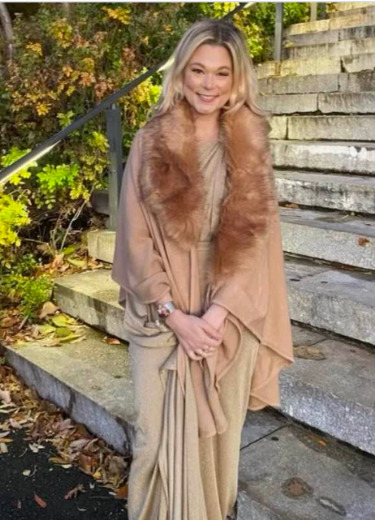 When death finds you, let it find you living fully.
African Proverb.
We are terribly sad to let you know that 
Maya Amoils
passed away peacefully at home on the evening of 1/18/22.  She did so on her own terms…in peace, surrounded by love, and free of pain.
Over the past few weeks, we have witnessed an unfortunate and rapid deterioration in Maya's physical health. Her pain was so extremely severe that she was on continuous high doses of Dilaudid, a morphine-like drug, and still, her pain persisted. But not once did she whine or complain. In fact, between her bouts of sleep, she became ever more present. Our conversations dwelled predominantly on love, and this was palpable whenever anyone saw her. Her doctors and staff love her. They cried with us!
Once Maya realized that there was no hope of living, she faced this stage with her typical indomitable courage and transparency. Her spiritual strength appeared to overcome the physical pain. Her courage never faltered! Our time together was filled with even more intense love and grace. She was prepared!
Maya Amoils always lived her life with meaning, purpose, and integrity
. Her last days were no different. She was mindful, strong, clear, and purposeful about her interactions. She wanted everyone to know how much she loved them. Two days ago, her friend, famous magician, and the most incredible, open-hearted, generous man, David Blaine popped past to give her an impromptu private magic show.
Everyone that really knew Maya felt like it was they that had a true connection with her. Such was her impact on people. She truly connected in a beautiful, eternal way. Her community spanned from those close to her to young adults in South Africa whose lives she had impacted, to friends all around the country and the globe.
So when death came, Maya was fully present and fully alive to meet it. We know that we are all on earth for just a blip of universal time. Maya's time was far too short but her impact was great. Her soul is inextinguishable and will live forever! We will continue to keep her flame alight in whatever way we can!
Maya has been a supernova. She lived a full and fantastical life in her 32 years. If we judge our lives by the depth of love we feel, the good we do for others, and the impact we have on the world, then indeed her life has not been short at all. She has asked us not to cry about her, but to celebrate our lives with the joy, meaning, and purpose she brought. And this we will try our best to do. And we ask you to do the same!
Maya's grace, kindness, and care for others throughout her life, and especially throughout her disease were a testimony to her open heart, her spirit, and determination.
Until the last six weeks of her life, people around her never even knew she was ill. She epitomized Wellness in the face of a devastating and incurable disease. She ate healthily, meditated, and exercised daily until she could no longer eat, or get out of bed.
Throughout her life, and particularly during the time that she was being treated for her cancer, Maya utilized many integrative medicine options to optimize her health, reduce her disease burden, manage the many side effects from chemotherapy and surgery, and improve her wellbeing. She did not lose her hair during chemo or suffer from peripheral neuropathy, or other potentially devastating side effects of the many chemotherapy medications she received.
Maya has asked us to start a fund called "Maya's Way" to help young cancer patients navigate the journey as she has.
"Maya's Way" is Maya's way of giving back to young people like her who are suffering from cancer. All donations will be utilized to help women under age 40 who are suffering from cancer receive integrative medicine therapies. The aim is to allow each patient to live with optimal Wellbeing, despite their illness.
(For those who want to make a tax-deductible donation to "Maya's Way" please send a check to "Maya's Way, c/o Integrative Medicine Foundation, a 501 (c) 3 foundation, 6400 E Galbraith Rd, Cincinnati, Ohio 45236. Or go to 
www.IntegrativeMedfoundation.org
)
We leave you with this quote from Thich Nhat Hanh:
"This body is not me; I am not caught in this body. I am life without boundaries. I have never been born and I have never died. Over there the wide ocean and the sky with many galaxies: all manifests from the basis of consciousness. Since beginningless time I have always been free. Birth and Death are only a door we go in and out. Birth and Death are only a game of hide and seek. So smile at me and take my hand and wave goodbye. Tomorrow we shall meet again or even before. We shall always be meeting again at the True Source. Always meeting again on the myriad paths of life."
*Thank you to all those who have touched Maya's and our lives, who have cared for us, helped us along this journey. It is not over. We have deep gratitude to Angela, Maya's partner, for the love, nurturing, and care she provided all of us. To Misha for being the most amazing sister a person could have, and to Dean, Misha's husband, for his strength and stability. Baby Rowan has reminded us daily of the pure joy of young life. Thank you to my brothers, Den and Phil, their wives Barb and Gina. And to Sandi's sisters Carol Anne (Chris) and Dee (the late Paul)… and to our nieces and nephews: Ryan, Danielle, Hannah, Gabrielle (Bobby) and Natalie (Zach), Bronnie (Bruce), Debbie and JoJo. Your daily support has sustained us. Thank you, too, Rabbi Lewis Kamrass, for your spiritual support, friendship and guidance.
And to everyone else that Maya touched…the list is huge, we send our gratitude, love, and friendship. We have all been blessed to have incredibly caring, loving, supportive friends, relatives, colleagues, patients, and other angels who have reached out and touched us during this incredibly difficult period.
Our family needs time to heal but will be back, living life fully alive, in- and of- service to humankind. That is Maya's Way! And that is our way.
Sincerely,