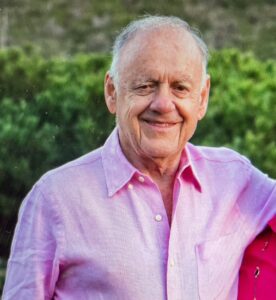 Ivan Rostovsky passed on Monday, March 13th, 2023.  He was comfortable, peaceful, and surrounded by family.  Ivan was eighty-five years old.
Ivan lived a full and eventful life.  He was a tremendously warm, personable, and jovial person.  His personal, professional, and family relationships spanned decades and decades.  He never stopped bringing smiles and warmth to those that surrounded him.
Ivan was born in Johannesburg, South Africa on May 18, 1937, to Morrie and Frankie Rostovsky. He had one sister, Sandy, of blessed memory.  He led a socially active and sport-filled childhood replete with lifelong friendships. He was a proud graduate of The King Edwards School in Johannesburg (KES). He entered the insurance brokerage business in his early twenties and remained in that profession his entire life.
In some ways his life was punctuated by the emigration of his family from South Africa to San Diego, CA in 1980.  Ivan was forty-three at the time and traded a very comfortable life and lifestyle in South Africa to start again in the U.S.  He made the move to afford his family an opportunity that he and his wife, Janet, thought might be closing in South Africa.  The move turned out to be prescient as general prospects in South Africa dimmed in the ensuing decades.  Ivan was able to start a new insurance business in San Diego and build it very successfully over the years until his retirement from C3 in late 2022.
Ivan loved life.  He was a passionate and active sports fan, music and entertainment lover, and traveler.  He loved spending time with people, whether clients of his business, family, and friends or even strangers he met along the way.
Most meaningfully, Ivan loved, provided for and cared for his family.  His wife children and grandchildren were the overarching focus of his life and remain indebted to him for the life and opportunities he created for them.
Ivan is survived by his wife Janet, children Kim (Niv) Harizman, Dean (Meghan) Rostovsky, and Lee-Ann (Matt) Silver together with seven grandchildren, Ben Daniel and Guy Harizman, Sasha and Sam Rostovsky, and Talia and Jacob Silver.  He is loved and will be missed.
The Funeral Service will be on Thursday March 16, 1:30 p.m. at El Camino Memorial Park, 5600 Carroll Canyon Rd. San Diego, 92121.
For those who are unable to attend in person, please click on the link to connect to the live stream :Ivan Rostovsky Obituary & Funeral Information The Shiva Minyan will be on Thursday March 16, at 6:00 p.m., and on Saturday March 18, at 7:45 p.m., at the Rostovsky residence: 1040 Genter St. #102, La Jolla, 92037. The family will receive visitors this Thursday from 3:00 p.m. to 8:00 p.m., on Saturday from 3:30 p.m. to 8:30 p.m., and Sunday from 2:00 p.m. to 6:00 p.m.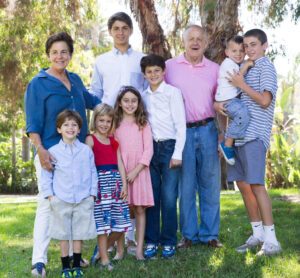 Janet writes: Ivan passed on Monday, March 13th at 85 years old. He loved life and enjoyed spending time with people, especially his family, friends and business colleagues all over the world. Most meaningfully, Ivan loved, provided for and cared for his family. His children and grandchildren were the focus of his life and they will always remember him for his fun loving, jovial, warmth, generosity and kindness. I am grateful for our 57 wonderful years together and a lifetime of memories. I will miss you. All my love, Janet