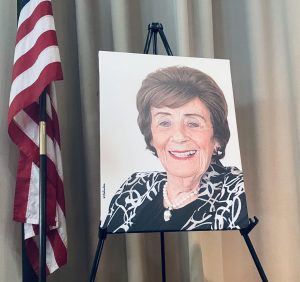 It is with deep sorrow that we inform you of the passing of a most cherished member of our synagogue community, Fanny Krasner Lebovits.
We express our heartfelt condolences and prayers for comfort to Fanny's loving family: Harold (Joy) Krasner, Milton (Stephanie) Krasner, Shirley (Howard) First, Marc (Shana) Lebovits, along with her nine grandchildren and thirteen great-grandchildren.
A Burial Service will be held, Friday September 8th at 3:00 p.m. at Home of Peace Cemetery, 3668 Imperial Ave. San Diego, CA 92113. Please be aware that Home of Peace is a very hilly site and parking is limited.
Your comforting presence will be appreciated at a Memorial Service to be held Sunday, September 10th at 3:00 p.m. at Congregation Beth El, 8660 Gilman Drive, La Jolla, CA 92037.
Shiva Minyan services will be held at 6:30 p.m. on Sunday, Monday, and Tuesday evenings, September 10th, 11th, and 12th at the home of Shirley and Howard First, 3358 Millikin Ave., San Diego, CA 92122.
May Fanny's memory inspire blessing and goodness.