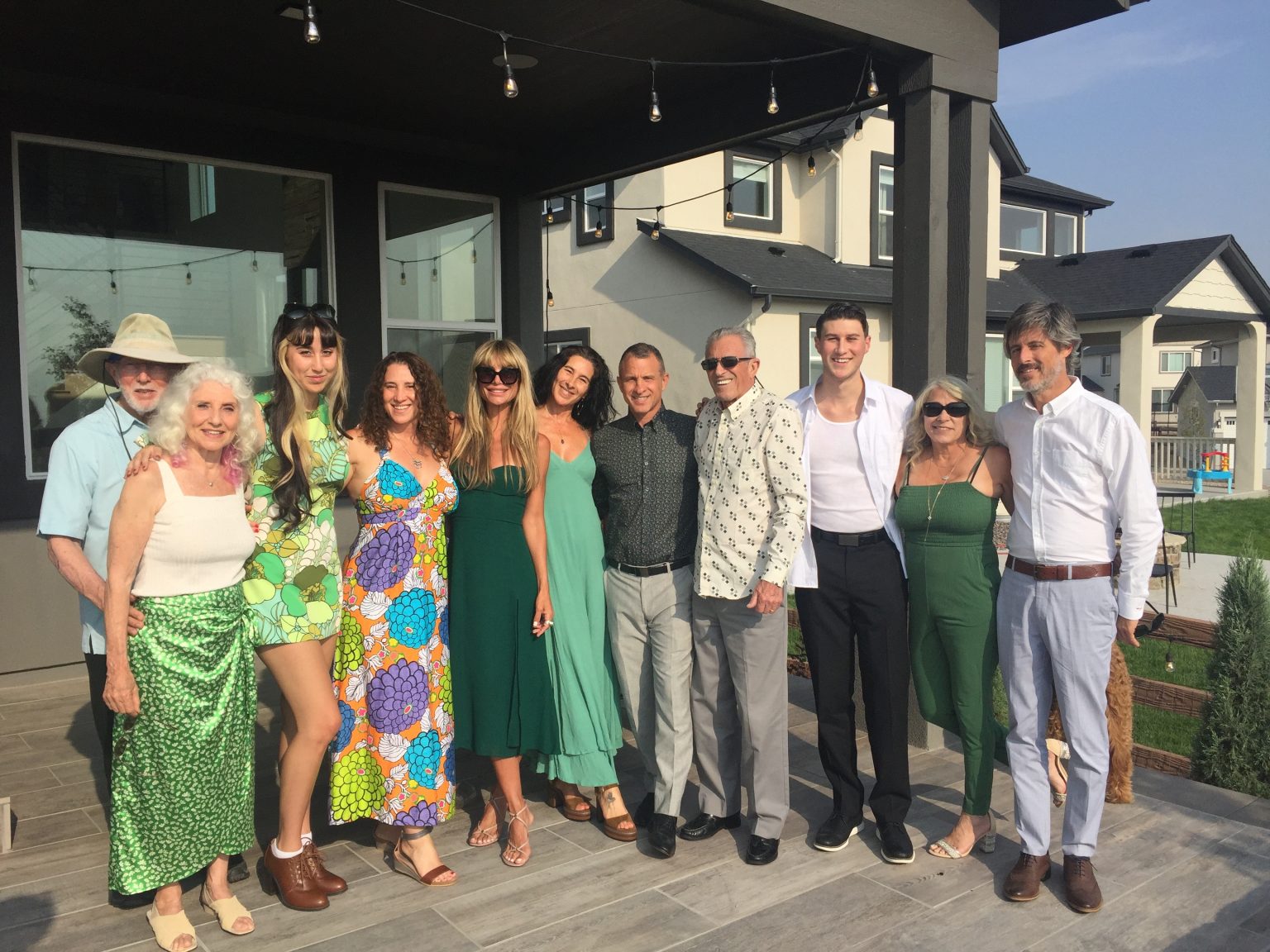 Andy Nathan passed away peacefully on June 14th, 2023.
The Funeral Service was officiated by Rabbi Zalman Carlebach at El Camino Memorial Park on June 19th, 2023 @ 10.00 am
Live streaming of Andy Nathan's funeral was provided by Am Israel Mortuary. Click on the link below.
https://www.hdezwebcast.com/show/anthony-andy-nathan-funeral-service
Andy Nathan's son, Alan, said: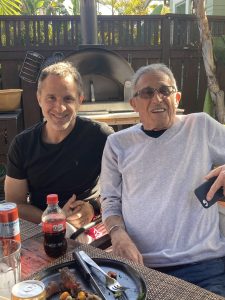 Today, we want to share with you the legacy of Andy's Way – a tribute to an exceptional individual, a one-of-a-kind person, an outstanding husband, a perfect father, and a man whose love and kindness knew no bounds. He lived life on his own terms, with a few fucks in his vocabulary, but always with a heart full of love and compassion.He lived his life with purpose and passion, and his love and kindness touched the hearts of everyone he met, leaving a lasting impression on all who knew him.
There's a saying that goes, "Thank goodness your father was born first." I am fortunate that this is the case for me. Watching him touch people's lives, especially ours, with his witty and genuine love, has blessed me with an abundance of knowledge on the virtues of kindness, unwavering love, and having a great laugh. He taught us to do the right thing without worrying about what others think. Unfortunately, I didn't inherit his ability to read a book or two a day, or his talent for golf or delivering a joke with perfect timing.
As a husband, he was the epitome of love and devotion, always putting his wives first and making sure they were taken care of. He was Penny's true partner and husband of 32 years, sharing the joys and challenges of life with her, and always there in the trenches when needed. We witnessed a beautiful love story unfold before our eyes. Their love was true and inseparable. He was deeply in love with Penny, and if it were up to him, he would have fought for just one more minute to be with her. Unfortunately, his body had other plans.
As a father, he was perfect, teaching us life lessons with a soft tone that steered us in the right direction. He allowed us to spread our wings and fly, even to places not desirable to our parents, but when it came to important decisions, he had a graceful way of guiding us. He was a role model and mentor, teaching us the values of love, honesty, and compassion. He was always there to listen, to offer guidance, and to provide unwavering support "Andy's Way."
As a person, my dad was extraordinary, with a heart full of love and a spirit that shone bright. He touched the lives of so many, leaving a legacy of kindness, generosity, and love that will live on forever. He made a profound impact on people's lives. Although he is no longer with us, we must carry on his legacy by showing authentic love and spreading kindness. The sentiment he embodied will persist within us. We were with him in his final hours and witnessed him in peace with an angelic glow.
In the Kabbalah, the mystical tradition of Judaism, there is a belief that when a father passes away, his soul ascends to the higher realms of existence, where it is reunited with the divine source of all life. This is based on the idea that the soul is eternal and that death is merely a transition from one state of being to another. Its mentioned in the Zohar, "When a father passes away, his soul ascends to the higher worlds, where it is greeted by the angels. They welcome him with open arms and guide him to his place in the afterlife. There, he is reunited with his loved ones who have passed before him, and he is able to bask in the radiance of the divine light." The passage goes on to describe how the soul is able to find peace and rest, and is able to continue its journey of spiritual growth and development. It is a reminder that even in death, the soul is never truly alone, and that there are spiritual forces at work to help it find its way.
This passage helps us find comfort and solace, knowing that our loved one is in a place of peace and rest, surrounded by the love and light of the divine. It is a reminder that death is not an end, but a transition to a higher state of being, where the soul is able to continue its journey of spiritual growth and development. We will miss him dearly, but we take comfort in knowing that his love and kindness will continue to inspire us all.
Andy's approach to life was encapsulated in the adage "drive for show and putt for dough." He knew that flashy displays were not enough to achieve success; it was the consistent effort and focus on the essential aspects that truly mattered. Andy didn't fall for the hype; instead, he remained authentic and stayed true to his values. He understood that the key to a fulfilling life was to prioritize what truly mattered and not get distracted by superficial distractions. If you ever face a difficult decision in the future, consider doing it Andy's way…. with a smile, a laugh and witty directness.
His daughter, Romy, said: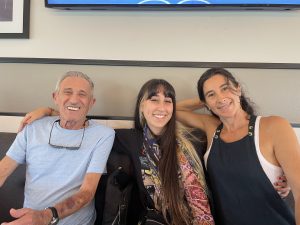 When we met with Rabbi Zalman on Friday, he asked Penny, "What do you think Andy's legacy was?" Penny said "Well Rabbi, some people would say 'Oh! He left an Empire. He made tons of money etc…' But Rabbi, Andy's legacy is sitting in front of you at this table. His kids!" She said, that when she first met my dad, she was enamored with how he loved his children, and that speaks to everything Andy is. I am honored to continue his legacy. Andy's way!
When I'm at my best, I'm my father's daughter. My dad is my first love. He is my role model, he is my hero. He is my protector. He is my friend. He taught me love and to be of service to others….. to be myself, to laugh and be silly and not take things so seriously. They say the love of your father and the way he treats your mothers, sets the foundation of how a girl views herself later in life. My dad showed me physically, with lots of love and kisses and emotionally, with his compassion and understanding. I know how to have a healthy sense of who I am. This I teach my children as well. Andys way!
Often, people love to just be themselves, but they can't because they feel that they must fall in line with the person in front of them. Andy didn't live that life. You would find him 'somewhere else', on the other side, doing it his way. Andy's way. My cousin Sam said to me, "When I saw your dad a couple months ago, he walked around like a gangster, regardless of struggling to breathe." Sam saw a man who was not willing to show anything less, but his best. That was truly Andy's way!
He was the OG! The legend! The man of the hour! The storyteller! Not only did he like to tell stories, he loved to hear the "tea" by keeping up with current pop culture. I set him up with Instagram during Covid and he got hooked. He loved to watch reels of babies and puppies but also knew what was going on with the Kardashians. Nikka would laugh and talk about how her Papa was the most "awake" Papa because he knew who Bella Hadid was, and knew the gossip before her. He was like a teenager and would sit with her and scroll together for hours, laughing and gossiping. That was their love language together. That was Andy's way.
When I was about 6 or 7,  I watched Andy walk on his hands from one side of the room to the other. He told me that he and my zaida were in the circus. I would then tell my friends that my dad was in the circus. When they came over he would do his handstand walking back and forth. Effortless. We all believed him. This was Andy's way!
I'm thankful to be blessed with his strong DNA. People have always said I look like him and my son, Sky, looks like him. The Nathan genetics are strong. A lean body that keeps me grounded and strong, my full head of hair, my olive skin and the love we both have for sunshine, the beach and a good tan. His love for sweets has traveled down to my kids. Sky's love for strawberry banana flavored ..'anything' and having a stash next to his bed. When the kids and I polish off a box of chocolates, in one sitting, we say "Oh ya! So healthy. Papa would be proud", and I'd be sure to remind him the next day. Andy's way!
My dad gave me the love for office supplies. Paper, pens, pencils, calendars, note pads, 5 different calendars and always a list that gets circled and moved to the next day when not finished. Carly does the same thing. He gave us impeccable organization skills, and we would go to LA and clean up Alan's apartment for him. He loved it. My kids would say I'm a little OCD. I just say it's Andys way!
My dad is a lover of music. All types. He was a collector of vinyl records. 1471 (he counted) to date. As teenagers, our friends wanted to hang out at our place, chill in the music room, put on big ear phones and listen to rock n roll…. The Rolling Stones, The Who, Led Zepplin … the list goes on. He instilled in us the love of dancing, moving and grooving and had the coolest dance moves. For those of you who know Andy's way, was this way… (show the move) He loved to take us to concerts, and showed us that no matter who you are and where you are from, music connects and heals us all. Andy's Way is the best way.
Unfortunately my kids are not here, and sad they can't be here. They love their Papa and always felt such love and ease when hanging with him.
Romy shared his granddaughter, Nikka's thoughts:
Before I left for Europe, I visited with Papa and Penny. He told me to drink a glass of wine every night at dinner while in Italy. He said to order 'by the glass' and to get whatever the house wine is. I'm more of a cocktail girl, I'd usually order an Aperol sprits while abroad but Papa said to get the wine so that's what I've been doing. He was right! Yhe wine is SO good and great pairing with the wonderful food here.
I wanted to get a tattoo while in Italy to remember my travels. I immediately decided I'd get a wine glass. It would remind me of my travels and my tradition every night at dinner. So I made my appointment for Sunday, June 18. The next day I heard the sad the news about my Papa. I had been so excited to come home and show him my new tattoo since he inspired the idea. Now instead it will be in honor of him and I'll be sitting in that chair getting stamped in Italy the day of his funeral, on Father's Day. I love and miss you so much Papa and I wish I was in San Diego with my family to all be together
Love,
Nikka
His daughter Carly said: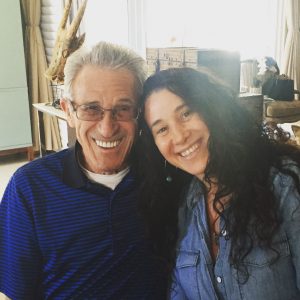 Father Tony- the kindest, coolest, funniest man and father around. I am missing a huge piece of myself with his departure. I couldn't have wished for a better father and friend. He was Perfect.
He was the coolest cat with more than 9 lives. He was stoic and a fighter to the end. The man floated through this world with GRACE. He was a "legend". He was the most handsome, stylish man around and could pull off an F-bomb with ELEGANCE.
He was a man of many words. Words that where straight forward, to the point, full of humor and wisdom. He was a true storyteller. He had the best delivery of words and experiences. He had the most contagious laugh and giggle. His sense of humor was sharp and on point. He touched everyone's heart he came in contact with. He could talk to anyone- about anything. He put ALL at ease.
He was rock solid. Always there if you needed him. He was full of kindness and compassion. He was the most organized on-point man. He was a planner and he always followed through. He thought through the little details of everything. He made lists and crossed them off. He was the Office Depot of Office Depot. If you needed something- Andy had it or could fix it.
He was full of wisdom. He could read a book in a day. He loved cars, golf, 60 minutes, and every section of the Sunday paper. He knew everything that was going on in the world from politics to Pop culture. He loved anything that had to do with dogs and children. He loved his family and showed us all what unconditional love looks and feels like.
He loved cheese 'sammies' on Jewish or Russian rye. He could take down some South African chocolate, biltong, smaltz, condensed milk and boeries, like nobody's business. His can of coke a cola on ice tasted better than any other. He was even more charming after 2 glasses of red wine!
He was a teacher from his ACTIONS and words. He walked the talk and talked the walk. He put the rock n roll in all of us. Dancing moves that could take you down. He taught me the meaning of true love. I will forever have him in my heart and soul. I love him to the moon and back, to pieces and more.