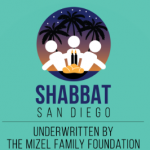 Shabbat San Diego is an independent grassroots level community-wide, inclusive and egalitarian organization of volunteers dedicated to encouraging the entire San Diego Jewish community to participate in a unique, international Jewish identity event that inspires all Jews to experience Shabbat. In 2019 it will be celebrated on November 14th -16th.
On this special Shabbat, San Diego's Jewish community of individuals, couples and families will enjoy the peace, tranquility and well being that Shabbat has embraced since Jews received this unique oasis in time more than 3 thousand years ago.
Yes, the history of Judaism spans more than 3,000 years. Judaism has its roots as an organized religion in the Middle East during the Bronze Age. Judaism is considered one of the oldest monotheistic religions.
Shabbat is a day for us to be in harmony with the world and not try to impose our will on it.
It's a day when ìall of our work is done…,î a world-wide expense-free vacation from the trials and tribulations of the work week, a way to better understand our place in the universe.
Each congregation in San Diego County celebrates Shabbat in its own manner with its own customs and practices, honoring this day of community togetherness and rest.

SHABBAT SAN DIEGO PARTNERS
One of the key principals of Shabbat San Diego and the global program, The Shabbos Project, is the concept of inclusiveness.
Shabbat San Diego is for everyone, affiliated and non-affiliated. Factional identities in all denominations, affiliations, ideologies and political differences ñ are set aside. Communal activities are structured to meet the needs of all and offend no-one.
The tagline, "Keeping It Together", refers to Jews of San Diego and around the world, across divisions and denominations, sharing this experience together.
This COMMUNITY UNITY objective cannot be achieved without the involvement and cooperation of many Shabbat San Diego PARTNERS. We are so proud to be one the organizations that make Shabbat San Diego the largest, inclusive community event in San Diego Jewish community history.
Chief Rabbi Warren Goldstein, the originator of this global program, said that this "is a peoples" movement in which every Jew is a partner.