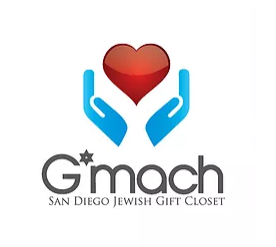 G'mach is an acronym for Gemilut Chasadim or Deeds of loving-kindness. The G'mach is a place where people donate items they have no use for.
Items that are donated to G'mach are then given for free to recipients in need from their warehouse located off of Miramar Road.
G'mach is unique in how it provides solutions for those in need. This includes:
-Professional adult mentoring & advocacy
-Emergency needs
-Shabbat and holiday meals
-Internships and youth group workshops
G'mach was selected by The Jewish Women's Foundation, a fund of the Jewish Community Foundation San Diego, as the recipient of a $50,000 grant. This money will be distributed over three years and will address critical issues facing Jewish women and girls.
Every great success story starts with the smallest inkling of an idea, a fleeting thought that starts with, "Wouldn't it be great if…?". That's how Helene Bortz, French wife of ex South African physician,  Dr David Bortz M.D. decided to found San Diego's only G'mach, known as the Jewish Gift Closet. G'machim (G'mach is an acronym for Gemilut Chasadim, or deeds of loving kindness) are in large Jewish communities worldwide and are usually run by private individuals who seek to collect and distribute clothing, food, toys, furniture, and any material goods and services to those in need in the community.
She was joined by ex South African, Myrice Goldberg (nee Shapiro) and together they opened their first location that in a building lent by a friend.
Since then, the G'mach has grown and has moved into a permanent warehouse, centrally located, by way of a Leichtag Foundation Grant. An emergency fund was established, in part, from a grant by the UJF and from private donors and philanthropists inside the Jewish community.
The G'mach has served hundreds of needy families and individuals throughout the San Diego community and continues to add programs and services for those in need.